---
Over the years we've heard a ton of great music at the Hornby Island Blues Festival. We decided that it wouldn't be fair to keep it all to ourselves. You can bring the magic of our electric and acoustic concerts home with our 2 CDs and DVD recorded live at the Hornby Island Community Hall. They are full of amazing performances from some of Canada's greatest Blues and Roots musicians, jamming together on one stage. This is the only place in the world where you can hear music like this.
To order a CD or DVD please contact us at .
---
Paradise Blues on CD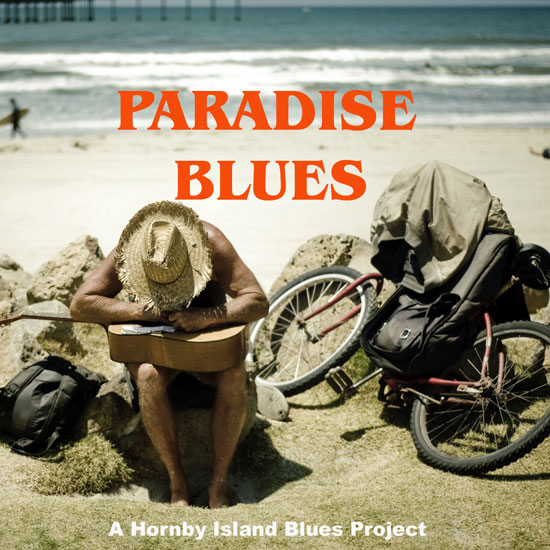 ---
Blue Dog Night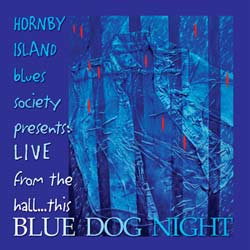 Recorded live in May 2001, this album is the result of gathering some of Canada's finest Blues musicians for the second annual Hornby Island Blues Workshop.You must have real player installed to play samples.
Down RealPlayer Here
Picture in a Frame
- Suzie Vinnick
Ragtime Ramble
- Keith Bennett
Hug You, Squeeze You
- David Gogo (Sample - 359KB)
Bring Me Little Water, Sylvie
- Dawn Tyler Watson
Good Morning Blues
- Michael Jerome Browne
Ribbon of Darkness
- Rick Fines (Sample - 389KB)
The Pie That My Baby Makes
- Suzie Vinnick

---
All Together
Recorded live in May 2004 at the fifth annual Hornby Island Blues Workshop, featuring some of Canada's fines Blues musicians. *You must have real player installed to play samples.
Down RealPlayer Here
When You Got A Good Friend
- Michael Jerome Browne
(Sample - 255KB)
I Ain't Got Nuthin but the Blues
- Keith Bennett
Black Girl
- Doug Cox
Departure Bay
- Ron Casat
---
Blues On The Rock DVD
Imagine gathering some of the best blues and roots musicians and moving them west, further west, right off the continent. Each May a group of the finest blues players around arrive on Hornby Island, where they present workshops to over seventy students. Some of the instructors are old friends and collaborators, but many are meeting for the first time. They congregate at the Community Hall, where, for the next week, they will reinforce a vibrant rural music scene.
While the purpose of the blues workshop is to expose the skills and styles of stellar Canadian blues musicians, the rewards come when the sun goes down and the music cranks up. When the instructors mix and match on stage the results can be jaw dropping, awe inspiring, hair raising, never to be repeated feats of musical magic. In 2006 the Hornby Island Blues Society and Outer Island Productions made a DVD of the instructors acoustic performance. When you get it in your hands, hang on to it. You'll have the best seat in the house!
Featuring:
Diana Braithwaite
Ron Casat
Rita Chiarelli
David Essig
Rick Fines
Amos Garrett
David Gogo
Dave Harris
Bill Johnson
Donald Ray Johnson
Suzie Vinnick
Kenny "Blues Boss" Wayne
Ken Whiteley
---