Upcoming Events

Hornby Blues 2015 Membership Event
There is going to be one wicked dance party at the Hornby Hall March 27, 2015

PAUL PIGAT and COUSIN HARLEY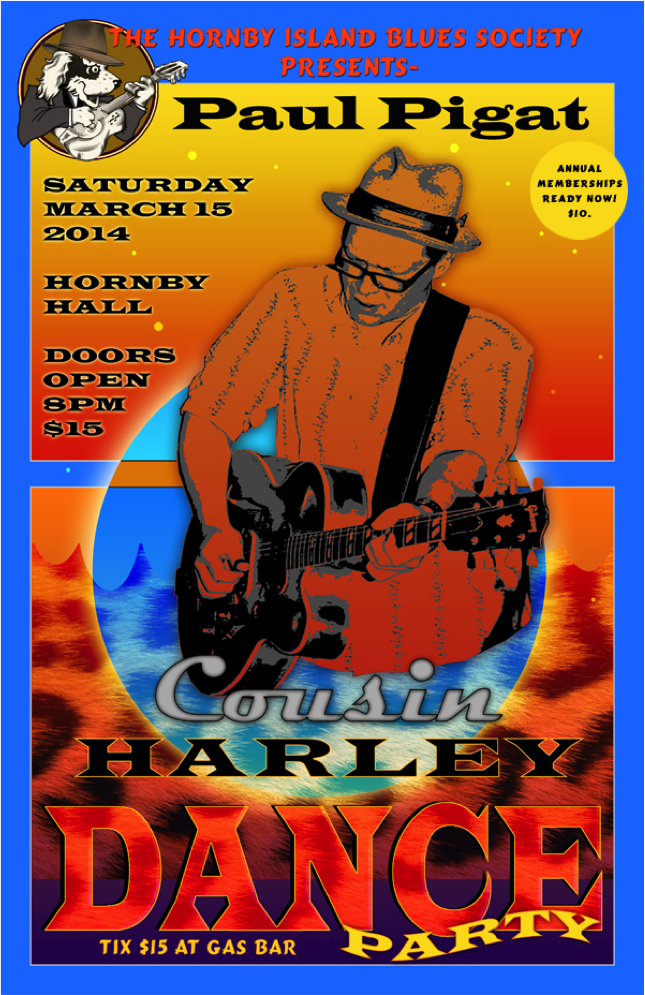 Saturday, March 15th, 2015
Doors 7 pm, Dance 8 pm
Hornby Hall
$20

Dance to high-energy rockabilly as Cousin Harley moves the groove through rock n' roll, Texas swing, boogie woogie and blues to make the best dance music you will hear on Hornby this spring.
More…
"Paul's guitar, along with Keith Picot's doghouse slap bass and Jesse Cahill's frantic drums, create a wide palate of tones by utilizing almost everything in their arsenal. From Gretschy twang to blistering Telecaster " the band has a reputation for delivering everything from hot rod rockabilly to foot stomping vintage country, surf, psychobilly ,and westcoast jump blues." Packing a new LP B'hiki Bop, the band is revved and ready to go.






---
Mailing list
To receive email updates from the Hornby Island Blues Society about concerts, workshops and other Blues news, please contact and ask to be on our mailing list.