Paul Pigat - Guitar
All levels from beginner's finger style to Intermediate and Advanced.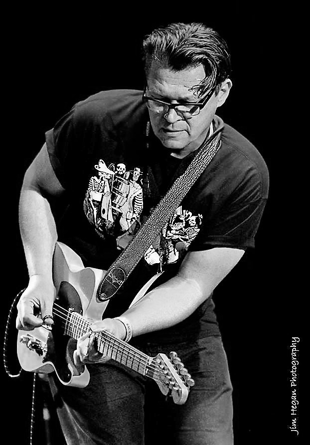 Paul Pigat is a guitar legend in Canada and has a world-wide presence. Known for his musical diversity he is at ease playing Blues or Jazz, Gospel or Bluegrass, Punk or Metal and Rockabilly or Western Swing. Through his insatiable guitar interests, he has developed his own inimitable style that he has developed through years spent learning music and even more spent performing and playing it.

No stranger to our Blues Workshop, Paul returns to his much-anticipated role as an instructor. "Blues to me is a pretty wide genre. I think most music since the 1920s is somehow influenced by Blues or Jazz to some degree. Hank Williams was as much a blues musician as Muddy Waters or Keith Richards in my book. It's all about a feeling and a "feel" for that matter. I've spent years working on my craft and trying to increase my skill level on the guitar and even with all that work, I can hear someone play a single note or sing one phrase and realize I still have a lot of learning to do."

Paul's teaching style is in depth and built upon the principle that it is more important that the student understand the concept of what's going on, rather than just being able to play it. And like the best teachers out there, he knows one is never done learning. So, sign up for a class under the tutelage of this amazingly diverse and versatile guitarist, songwriter and singer, and who knows - maybe he'll even learn something from you!
Major Class
---
2023 Instructors