Community Connection:
Suzie Vinnick
Each year during Blues Week we invite a musician to become more intimate with our community by having them go into the Hornby School and play some music, talk about Blues and Roots ideas with the children, and generally have some fun. This Blues-In-the-School musician also becomes our island's Blues-Week-Busker and Music-Jam Mentor who further liven up the charged atmosphere of Blues Week. This year we have invited Hornby favorite Suzie Vinnick back, as Suzie was one of the first Blues Workshop musicians who helped to shape this important community role.
Suzie's career has seen triumph after triumph. She has won 10 Maple Blues Awards, 1 Canadian Folk Music Award for Contemporary Vocalist of the Year and is a 3X Juno Nominee. She was a finalist in Solo/Duo Category at the 2013 International Blues Challenge in Memphis, TN; and in the past has won the CBC Saturday Night Blues Great Canadian Blues Award and the 2012 Sirius XM Canada Blues Artist of the Year. Suzie has toured nationally with Stuart McLean's The Vinyl Café and the John McDermott Band, and performed for Canadian Peacekeepers in Bosnia and the Persian Gulf. She was also the voice of Tim Horton's for 5 years. How cool is that?
Watch for her blues midweek busking shows at the Coop Porch and remember be generous!
Suzie also will have her own community showcase at Sea Breeze on the evening of May 11. Tickets are available in advance at Sea Breeze. She will also perform at our island Workshop concert stages where she will join our all-star instructors in both the Acoustic Concert and the Electric Dance show, and be part of our showcase Odyssey review.
Finally, if you want a great one-on-one teaching experience take advantage of Suzie's private lessons in music or voice during Blues Week. For advance communication and arrangements — suzie@suzievinnick.com
---
Harpdog Brown - Blues Harp
---
Jack de Keyzer - Guitar
---
Paul Deslauriers - Guitar
---
Cécile Doo-Kingué - Vocals

---
JW-Jones - Guitar
---
Rick Fines - Guitar
---
Sam Harrisson - Drums
---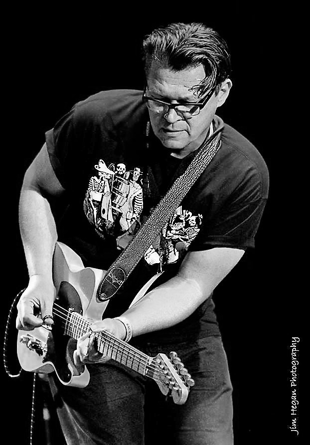 Paul Pigat - Guitar
---
Lisa Rae Simons - Bass Guitar
---
David Vest - Piano and Keyboard
---