Community Connection:
Rick Fines
Each year we invite a musician to become more intimate with our community by having them go into the Hornby School and play some music, talk about Blues and Roots songs, and generally have some fun. This Blues-In -the -School musician also becomes our islandís Blues Week Busker and Music-Jam Mentor. We also showcase their talent in a Sea Breeze concert midweek, and invite them to our mid-week Workshop concert stages.
Rick is one of Canada's leading blues and roots musicians. He has been playing music professionally for 24 years, and is a veteran of the folk and blues circuits in North America. As a player his acoustic and dobro guitar work is distinctively an amalgam of tradition and his own creative energy. He is arguably one of the best acoustic fingerstyle and slide guitarists on the folk and blues circuits in North America.
As the longest serving musician at our Workshop, Rick once again will return in the role of community liaison for 2018. We know our Hornby community and our school students will be in for a real treat with Rick in this role.
---
Keith Bennett - Blues Harmonica
Major - Blues Harmonica
Keith will be teaching the basics of playing the blues on harmonica.
Topics to include: The harmonica layout explained/proper hand position/a basic comping on a 12 bar blues/single note exercises/finding the the blues scale/beginning improvisation/bending notes/ tips and tricks/mics amps & jamming/repair and tuning.
Tuesday Minor: Using the harmonica rack to spice up your blues songs.
In this class we will have a look at
incorporating the harmonica rack into your existing guitar songs. Playing guitar and harmonica at the same time is easier than you think and will allow another voice for soloing.
Wednesday Minor: History of the "Tin Sandwich"
This class will be a lecture on the history of the harmonica from its inception to modern day and some of the changes in between. Keith will demonstrate instruments from some of his collection including: Chinese Sheng, 48 chord, 4octave chromatic, diatonic, bass, and poly-chromatic harmonicas.
Thursday Minor: How to sing in tune!
"Love your delivery, but your pitch… hmmm… "
Learn how to nail every note all the time!
Topics to include: proper vocal warm ups/ ear training /interval recognition.
---
Jack de Keyzer - Guitar
Major: Play like a King!
Level: Beginner to Advanced

Learn the songs, techniques and riffs of the greatest blues man ever. BB's Vibrato, bends and signature licks. This class will also offer the experience of how to build solos with BB's less is more approach and how to jam and improvise blues solos while the class backs you up.
All levels will benefit from this week long major class. Play like a King… BB King!
Including:
Woke Up This Morning, Please Love Me, Thrill Is Gone , Sweet Little Angel, Rock Me Baby and as many more as we can get in!
Tuesday Minor: Magic Sam's Greatest Riffs
Level: Beginner to Advanced

We will learn the riffs and licks of the great South Side Blues man Magic Sam.
Sweet Home Chicago, Easy Baby, Looking Good, All of Your Love, I need you so Bad
Wednesday Minor: Robert Johnson Standard Tuning
Level: Beginner to Advanced Electric Guitar

Learn 3 of Robert's greatest standard tuning songs . We will learn the intros, licks and turn arounds in 3 classic RJ numbers. Please bring a Capo!!
Kind Hearted Woman Blues , Sweet Home Chicago, 32-20 Blues
Thursday Minor: Mississippi Muddy Waters

We will learn several of Muddy's classic tunes. Including playing slide in standard tuning, and as many Muddy riffs as we can squeeze in! Please bring a Capo and slide!
Long Distance Call, Rock Me, Hoochie Coochie Man and more.
---
Cécile Doo-Kingué - Guitar
Major: String it Together
The workshop aims at giving participants the necessary tools to truly feel at one with their guitar and express their creativity with as little impediment or inhibition as possible, and maximum control. Both rhythm and lead playing will be explored.
Areas of focus:
- Wellness: prepping hands and mind for optimal execution
- Ear training: if you can't hear it, you can't play it. Emphasis is on 'how it's played', not just 'what is played'
- Hand exercises: rhythm, articulations, melodic
- Transcription: learning and executing a selection of tunes to be presented at the final concert
Tuesday Minor: Substitute!
This workshop focuses on reharmonization and chord substitutions by exploring options available to spice up standard blues progressions.

Wednesday Minor: 3 is the Magic Number
Rhythm workshop focusing on navigating between swing, shuffle, and various triplet feels to add color to both rhythm and lead playing,
Thursday Minor: Horny is Good
A workshop focusing on learning horn section lines to incorporate a more melodic approach to rhythm playing and chordal leads.


---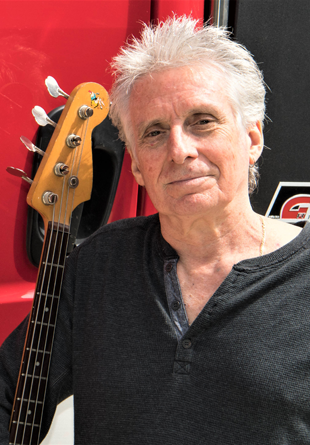 Gary Kendall - Bass
Major: The Blues and the Bass
For electric and acoustic bassists

1) 12 Bars, 8 Bars, Turnarounds & Sitting On The One - A complete look at the most common blues song structures
2) The Shuffle, The Walk, The Peddle, The Funky Blues & The 1/5 - The blues grooves…………
3) The Engine Room(Being part of the rhythm section) - Working with the drummer. Working with the piano player. Working with the rhythm guitar
4) Laying The Foundation - Supporting the vocalist . Supporting the soloist
5) Winging It - The Blues & The Common Language. Improvisation
6) Soloing - Getting in and out without losing the groove
7) Tone - It`s in our hands
8) Instruments & amplification - How to obtain the best instrumentation to suit your needs
9) Performing - Feelin`good, lookin` good & playin` good
10) Composition- Writing a song using the bass line as the starting point
11) Learning a song with chord charts and the numbers method
12)The student as the teacher: Each participant would be asked to demonstrate or speak about something they discovered on their journey into the world of playing bass that opened a door or helped make it all fall in place
Tuesday Minor: Common Ground
Level Beginner to Advanced.
The role of the bass in communicating with other band members.
Wednesday Minor: Playing and Listening
Level Beginner to Advanced.
When Less is More - What to look for and what to listen for in being an effective Bass player.
Thursday Minor: The Art of Jamming
Level Beginner to Advanced.
Jamming with others is good for your musical soul and will sharpen your skills while making you feel more confident about your playing. It doesnít matter whether some players are more experienced than you, or that someone plays better than you do. This class in jamming is about building collaborative band confidence and increasing your musical knowledge base.


---
Brandon Isaak - Songwriting / Guitar

Major: Songwriting
Were going to look at how to make your lyrics stronger and have more punch. Different styles of song writing and how to get the right music that is complimentary to your lyrics. I have lots of great little ideas and tips and I'll let ya in on em as we write. (Bring a phone or something to record with and a pad of paper.)
Tuesday Minor: Charting out your songs
This is a great class that I wish I had learned long ago. I've got some different ways to put your song chords and changes on paper so anyone can read them. Reading music is not nessasary for this course. We will also look at some song writing ideas and tips if we have time. Bring some paper along.

Wednesday Minor: Simple Blues From The Heart (Guitar / Singing)
You don't have to be SRV to play the blues with heart and soul, you just need a heart and soul... and a guitar. I've always been a fan of simple primitive blues and we gunna look at just that. Finger picking is where I like to dwell and this is a great class for a beginners or advanced. If you play with a pick, we can work with that too.

Thursday Minor: T-Bone Swing (Guitar)
In this class were going to swing; and all in the style of the late great T-Bone Walker. We'll look at some of his chords, riffs and the secrets of his sound. If you ask me, T-Bone is one of the greatest of all time and the foundation for all electric blues guitar players.
---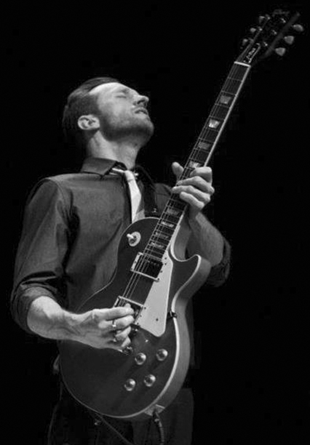 JW-Jones - Guitar
Major: THE KING OF THE BLUES - B.B. KING!
Level: Beginner to Advanced - Recommended for Electric Guitarists
We'll start with B.B.'s stinging 1950's style, moving into 1968's extremely influential 'Live at the Regal', and onwards. The gateway to understanding the approach of virtually any of your favourite electric blues players is to start here.

Tuesday minor: TURNAROUNDS
Level: Beginners to Advanced -Recommended for Acoustic and Electric Guitarists
We'll tackle turnarounds in the style of Jimmy Reed, Jimmy Rogers, Muddy Waters, Lonnie Johnson, and B.B. King (time permitting of course!)
Wednesday minor: IMPROV SOLO(S) WITH ONLY 5 NOTES!
Level: Beginner to Advanced - Recommended for Acoustic & Electric Guitarists
This class will help anyone that feels like they are playing scales up and down the neck but it isn't quite sounding like the blues greats. Even more importantly than the playing itself, this will help you THINK like a blues guitarist. Guaranteed to improve your mindset and ability to improvise!
Thursday minor: BUILDING SOLO INTENSITY
Level: Beginner to Advanced - Recommended for Electric Guitarists
Take your solos from simple and sparse to powerful and intense. It's everything from where you're playing on the neck to how aggressive your picking is. This was my "major" class on previous visits, but even if you've studied with me before, it'll be great to refresh and review these skills!
---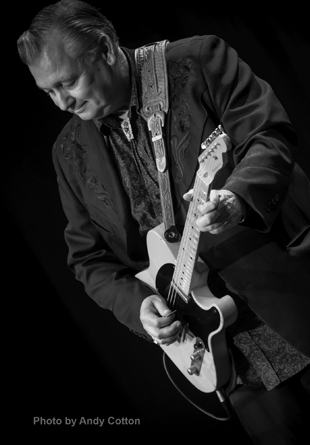 Steve Kozak - Guitar
Major: Beyond Inspiration: Guitar instrumentals of The Texas Cannonball… The Great Freddie King
Student Level: Beginner to Advanced
All electric blues guitarists should have at least a few good instrumentals in their repertoire and should play at least a couple of the hit instrumentals by the great Freddie King. Freddie King was an all-around Bluesman, his style a mixture of the Texas and Chicago sounds. !
Tuesday minor: 'You've got me singin' the Blues': Singing and playing Blues guitar at the same time
Level: Beginner to intermediate

I have been asked several times, how do you sing and play the guitar at the same time? We will look at and work on some techniques, tips and methods that I use to help you put these two skills together to get you singing and playing the Blues.
Wednesday minor: Chicago and Texas Style Blues Favorites
Level: Beginner to advanced.

We will look at a few examples of some of my favorite 12 bar and 8 bar Chicago and Texas Blues tunes. We'll examine the form and some different styles of rhythm playing, turnarounds, and riffs. And we will check out of some of my influences and favorites.
Thursday minor: West Coast Jump and Swing style Blues
Level: Intermediate to advanced.

We will look at various progressions, cool licks and chords that you can use, plus rhythm styles and a few different turnarounds. Let's jump and swing the Blues… checking out some of the greats like T-Bone Walker, Hollywood Fats, Duke Robillard, and more.
---
Samantha Martin - Voice
Major:
It's always best to start at the beginning, and that is understanding the physical mechanics of the voice and how it all works. We will be learning vocal warm ups and cool downs, learning our vocal range and the difference between your head voice, chest voice and how to mix the two.
We are also going to get to work on being an original and unique vocalist. It's great that you can sound just like your favourite singer, but it is important to find YOUR voice. We will discuss and work on different styles of singing (ballads, rockers, funk, and improvisational skills).

Tuesday Minor: Singers As Band Leaders
This is for the singers who lead bands, we are going to discuss healthy touring practices to keep stress down (which is a major factor in keeping a voice healthy while on the road), ways to be an effective band leader, how to cue a band, how to drive the dynamics of the band when performing live, and how to curate a great set list that not only keeps the party rockin' but give your voice a rest within the set.

Wednesday Minor: Lyrics & Melodies
In this class we are going to practice lyric delivery to make the most impact on the listener, and practice conveying emotion with your voice.
Thursday Minor: Harmonies & Back Up Vocals
There is a big difference between harmonies, and back up vocals - each have their role - when do use these vocal tools to improve the song, and more importantly when to lay out. We are going to practice finding harmonies, blending, and do some gospel call and answer style back ups.
---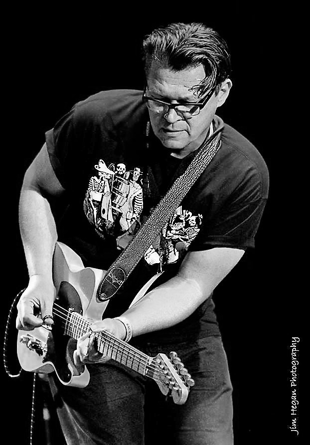 Paul Pigat - Guitar
Major: Jazzing up your Blues
Level: Intermediate to Advanced
Want to break out of the same old same old? lets jazz up that blues!!! How about some fresh new chord voicings to spice up a standard 12 bar? Lets talk inversions! want to impress your friends? how about some simple chord substitutions that will challenge the ear!! tired of those pesky pentatonic scales? how about some new melodic scales and arpeggios that will increase your vocabulary!!!
Tuesday Minor: Stealing from the lap steel
Level: Beginner to Advanced

Sometimes a little diversity can really change your playing and taking ideas from another instrument can open new doors. i'll show you a few simple chord voicings and techniques that can really open up your playing and put a bit of "hot country" into your playing
Wednesday Minor: Rockabilly
Level: Intermediate to Advanced

What more needs to be said? Its cool!!!!
Thursday Minor: The Fine Art of Jamming!
Level: Beginner to Advanced
Playing in a rhythm section with drummers and bass players. Paul will be joining Gary Kendall, Chris Nordquist, and David Vest for this class.

---
Chris Nordquist - Drums
Major: Fundamentals of Drum Performance in Blues Music Level

Level: Beginners to Advanced
1. Drum set-up / putting everything in the right place.
2. Ergonomics / How to get the most out of the kit.
3. Tuning / Same Kit, but different sounds for different gigs.
4. Common Blues Rhythms / Funk, Shuffle , Rock and Roll, Swing, 2-beats, Country Blues.
5. Common Blues Forms / 8-Bar, 12-Bar, 32-Bar, Open forms and Ballads.
6. Blues Lingo / Pick-Ups, Shots, Stop Times, Trading 4s.
7. Reviewing what we Know.
8. Introducing Fills / Where to fill and When.
9. Cymbals / The most expressive part of the kit.
10. Improvising / When to listen and when to go for it.
11. More Rhythms / Second Line, Boogaloo, Country Shuffle, Flat Tire.
12. Soloing / Playing the form, Trading, What to do in a Bass solo.
13. Dynamics / Using Volume as a tool
14. Some Tricks of the Trade / Getting different sounds from the kit.
Tuesday Minor: Making Music on the the Drums

Wednesday Minor: Chicago Blues Rhythm Section (with Gary Kendall's class)

Thursday Minor: The Art Of Jamming!
Level Beginner to Advanced.
Playing in a rhythm section with drummers and bass players. Chris will be joining Gary Kendall, David Vest & Paul Pigat's afternoon classes to delve into what it means to be a successful jammer.
---
David Vest - Piano and Keyboard
Major: Blues Piano
Level: Intermediate to Advanced

This is a hands-on workshop. Everyone is welcome, but folks who can already play a bit will get the most out of it. The emphasis is on having fun, because that's what blues and boogie-woogie piano are all about.

We'll cover the basics (12-bar, 8-bar, 16-bar etc) and the shorthand codes ("hang on the five," "quick-change, long-change," etc), as well as some professional tips you can share with band mates.

In addition to your keyboard (and small amp if needed), bring some headphones (cheap ones are fine). There may be times when you want to linger over something while the class is doing something else.
Tuesday Minor: FATS DOMINO & other New Orleans greats
Beginners to Advanced
We'll dig deeply into the piano playing of Fats Domino and his biggest influences (Champion Jack Dupree, Little Willie Littlefield, etc), unlocking the mysteries of Lawdy Miss Clawdy , Blueberry Hill, My Girl Josephine and Fats' famous take on Swanee River.

Wednesday Minor: JERRY LEE LEWIS & LITTLE RICHARD
Beginners to Advanced
We'll look at how to play in the signature styles of two of rock's greatest piano players. Others we'll look into include Cousin Joe Pleasant, Ivory Joe Hunter, Walter Roland, Bill Doggett and Ann Rabson.
Thursday Minor: The Art of Jamming!
Beginners to Advanced
Playing in a rhythm section with drummers and bass players.
---