Community Connection:
Marc Crissinger
Each year we invite a musician to become more intimate with our community by having them go into our Hornby School, meet the students and play some music, talk about Blues and Roots, and generally have some fun. This Blues-In -the -School musician also becomes our island's Blues Week Busker and plays a role in our music jams that are held during the week. We showcase their talent in a busking show midweek at the Co-op Ringside Market. Of course, they are also invited to play at our acoustic concert and Wednesday Night Hall Dance.

This year we have invited Mark Crissinger. This will be Mark's second visit to the Blues Workshop as he was a student last year taking in all the events. Mark, in case didn't know, is a 2017 Maple Blues Award nominee who has been entertaining music loving audiences since 1987. Blending traditional themes, clever lyrics, and modern arrangements, he performs original new blues and roots music and is ideally suited to bring new energy to this community role. We think Hornby will love this guy and are garetful that he has said he has accepted our invitation. "We know our Hornby community and our students will be in for a real treat with Mark in this role.
---
Jack de Keyzer - Guitar
Major: Are you ready for Freddie?
Level: Beginner to Advanced

Learn Freddie King's classic guitar instrumentals: Sen Sa Shun, San Ho Zay, Wash Out, Just Pickin', Out Front, Heads Up , Hideaway.
We will learn the heads to these songs, the lead and rhythm guitar patterns, learn some of Freddie's solo parts and then we can all jam along together. A fun class for all levels.
Monday Minor: Play like a King!

We will learn four classic BB King songs. The intros, signature licks and positions that made BB -King: Sweet Little Angel , Please Love Me, Rock Me Baby , Thrill Is Gone
Tuesday Minor: Magic tricks!

We will learn the heads, rhythms and key licks to as many of West Side Chicago bluesman Magic Sam's songs as we can fit in. Sweet Home Chicago, Easy Baby, Looking Good, All of Your Love, I need you so Bad.
Wednesday Minor: The Devil's Music : Robert Johnson

Learn three of Johnson's non slide, finger style classics. Acoustic or electric. Kind Hearted Woman Blues, Dust My Broom, 32-20 Blues.
---
Cécile Doo-Kingué - Guitar
Major: String it Together
All Levels
The workshop aims at giving participants the necessary tools to truly feel at one with their guitar and express their creativity with as little impediment or inhibition as possible, and maximum control. Both rhythm and lead playing will be explored. Although the concepts explored can be applied to all styles of music, the examples and exercises will be blues-based in this scenario, in order to hone skills within the genre.
Areas of focus:
- Wellness: prepping hands and mind for optimal execution
- Ear training: if you can't hear it, you can't play it. Emphasis is on 'how it's played', not just 'what is played'
- Hand exercises: rhythm, articulations, melodic intent, dynamics
- Transcription: learning and executing music to be presented at the final concert
- Mobility: chordal and melodic fluidity (movable chord and scale shapes)
Monday Minor: Deep Pocket
Doesn't matter how good you are, if you can't lock it in and blend, you're killing the groove and solos. This workshop focus on pocket playing and how to be present without getting in the way.

Tuesday Minor: Make it Funky
A rhythm workshop designed to turn you into a groove machine, with or without a rhythm section. Right hand rhythm patterns and approaches. Left hand figures & articulations.
Wednesday Minor: Substitute & Embellish
This workshop focuses on extended chords, reharmonization and chord substitutions by exploring options available to spice up standard blues progressions.


---
Rick Fines - Guitar
Major Class: Mississippi John Hurt
We'll explore his style and work on songs in C (Pallet On The Floor) and Drop D (Stack O'Lee). We'll look at how you can use his techniques to embellish other songs and add this flavour to your menu. *No flat picks allowed J

Monday minor: Open G, Fingerstyle *
We'll spend half our time looking at riffs and chord shapes, then we'll put a slide on to get more out of this versatile tuning known as "Spanish".
* bring a slide
Tuesday minor: Right Hand techniques (no flat picks)
As we review techniques like damping with the heal of your hand, muting with individual fingers, rolls and patterns, we'll get everyone focusing on a couple new RH techniques that you'll use every day.
Wednesday minor: Drop D
We'll spend an afternoon looking at what the fingerboard looks like when we shift to Drop D tuning. There are many ways that this can add a new approach to your playing – although especially good for solo stuff, there are many ways to complement a song with a Drop D for second guitar (and not just in the key of D!)
---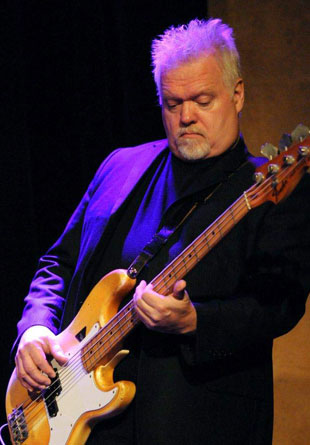 Alec Fraser - Bass
Major Class: The History of Blues Bass - City By City, Grooves and Approaches
A tour of bass blues through the style masters: New Orleans, Memphis Chicago, Austin, the Delta, and London The signature grooves and approaches of blues bass styles.

Monday minor: Fingers and Pick Techniques
Using song samples, students will learn techniques like how to make an electric bass sound like a tuba or upright bass. Highlights also include pick techniques in British Blues, and a variety of subjects from string choices and their advantages, recording techniques and dealing with 'Live' audience challenges when gigging.
Tuesday minor: Fundamentals of playing with others
The fundamentals of Bars, 8 Bars, Turnarounds & Sitting On The One – and a look at the most common blues song structures: The Shuffle, The Walk, The Peddle, The Funky Blues & The 1/5
Highlights include the common language of improvisation and the ins and outs of bass soloing.
Wednesday minor: The Engine Room Live Action
What you need to know to be part of a rhythm section.
Working with the drummer, piano player and the rhythm guitar. This class will be a live session combined with the drum class and or the keyboard class students.
---
Brandon Isaak - Songwriting

Major: Flex your songwriting muscles
Levels: Beginner to Advanced are all welcome
You will learn the fundamentals of roots and blues songwriting. We'll look at song structure, melody writing, lyric writing, rhyme schemes, phrasing and some simple tricks to strengthen your lyrics.
Monday Minor: Accompanying your main instrument with a tin sandwich...
We're going to learn basic 10 hole diatonic harmonica in 1st and 4th position. This course is for beginner to intermediate players. We'll look at starting out with simple rhythms and patterns inspired by players from Jimmy Reed to John Hammond Jr. and Little Walter. We check out single note, chords and basic note bending.

Tuesday Minor: Slide head first into the blues...
Basic slide in open tunings. We'll check out fretting behind the slide, basic riffs, laying out a solid foundation and different thumb patterns that keep your blues fat and steady.

Wednesday Minor: I got a Bone to pick with you...
We're going to check out the T- Bone classic, Don't Leave Me Baby and dive into his chords, rhythms, bends, phrasing and classic riffs.
---
Steve Marriner - Blues Harp
Major: Blues Harp: The (Ten) Hole Story
Level: Beginner to Advanced
In this workshop, we'll explore all aspects of this small, but mighty instrument. We will cover everything from fundamentals such as: grip, embouchure, single notes and chords to more advanced techniques like: bending notes, tongue blocking, throat vibrato and much more!
It will feature an in depth look at the origins and history of the harmonica and how the unique styles of the masters of blues harp have influenced generations of players.
We will also discuss which microphones, effects and amplifier combinations players can use in their quest for their own, distinctive harp tone.
Finally, students will learn practical applications for all of this new knowledge in their approach to playing blues.


Monday minor: Expanding Your Vocabulary: The Different Positions of Blues Harp
Beginner to Advanced
How does the key of the harmonica versus the key of the song change your vocabulary on the instrument? Everybody has heard of 'cross harp', but what about first and third position? As we take a look at the theory of blues harp, find out new ways of playing harmonicas in different keys to create different moods within the song.
Tuesday minor: Tongue Twisters
Discover the many tips, tricks and techniques employed by the strongest muscle in your body!
We'll take a closer look at tongue blocking for single notes, octave splitting, trills, flutters and warbles to add some exciting new sounds to your harp playing.
Wednesday minor: I Hear That Train a 'Comin
Beginner to Advanced
There's more than one way to make that lonesome whistle blow, and in this workshop, we'll explore the rhythmic side of the blues harp. Make it wail, chuck and chug as we examine the incredible contributions from country blues harp legends such as Sonny Terry, John Lee Williamson and DeFord Bailey.
---
Samantha Martin - Vocals
Major Class
It's always best to start at the beginning, and that is understanding the physical mechanics of the voice and how it all works. We will be learning vocal warm ups and cool downs, learning our vocal range and the difference between your head voice, chest voice and how to mix the two. We are going to work on individual vocal issues that many singers contend with. This is a chance to let me know what exactly you are struggling with (Do you lose your voice a lot, do you find your voice too thin, does it hurt when you sing, do you want to expand your vocal range in either direction?)
We are going to work on being an ORIGINAL and UNIQUE vocalist. It's great that you can sound just like your favourite singer, but it is important to find YOUR voice. We will discuss and work on different styles of singing and improvisational skills, finding the right key for the song you want to perform, and some tips and tricks to help bring your vocals to the next level. Bring a song that you want to work on!
Monday minor: Lyrics & Melodies
In this class we are going to practice lyric delivery to make the most impact on the listener, and practice conveying emotion with your voice. We are going to listen to examples and practice singing strong melodies, vocal hooks, vocal runs, vocal improvisation and killer choruses.
Tuesday minor: Harmonies & Back Up Vocals
There is a big difference between harmonies, and back-up vocals - each have their role - we will practice when to use these vocal tools to improve the song, and more importantly when to lay out. We are going to practice finding harmonies, blending, and do some gospel call and answer style harmonies and back-ups.
Wednesday minor: Band Leaders
This is for the those singers who lead bands, we are going to discuss healthy practices to keep stress down (which is a major factor in keeping a voice healthy), ways to be an effective band leader, how to drive the dynamics of the band when performing live, and how to curate a great set list that not only keeps the party rockin' but give your voice a rest within the set. This minor will be good for any band leader regardless of if they sing in the band.
---
Chris Nordquist - Drums
Major: Know Your Drum and Play It Well

Three Days that Look Like This:
Note: The morning majors will have the luxury of having a fine bass player (Mike Ellerbeck) who last year enjoyed giving the class some context playing the various feels and forms while we work on our stuff.
Day 1
1 . Drum set up, ergonomics, tuning.
2. Where we are at —open playing and dialogue regarding the course.
3. An intro to some basic beats and terminology (Blues Lingo) —shuffle, swing, 2-beats, Latin
4. Playing a 12 bar Form.

Day 2
1. Playing the Common Blues Forms "Shuffles": Chicago Shuffle, Double Shuffle, 2- Beat, Flat tire Shuffle, Rock Shuffle
2. Common Blues Forms : 8-Bar, 12-Bar, Open Forms (boogies)
3. Using Different Beats with Different Forms:6/8 Ballads, 3/4 Jazz waltz, 12/8 slow blues
Day 3
1. "More Beats are Better": Bo Diddley beat, Second Line New Orleans beat, Cajun Blues
2. Using what we've learned
Clues to know what the right feel for the right song is.
How to start the band (counting in a song), and how to take a count-in.
3. Class Re-cap Some Fun Playing (waking the neighbours)

Working with Other musicians: Afternoon Minors we will work With Piano, Bass, Drums and Guitar
Monday Minor - Choosing a song — Talking an Arrangement — Starting/Ending
Tuesday Minor -Song Variety —Taking Cues/Giving Cues—Leaving Space—Drum Fills
Wednesday Minor -More songs—Changing Feels within songs—Soloing (you and others)
---
Ricky Paquette - Guitar
Major: Blues/Rock Guitar
In this major you will learn about blues rock guitar icons, covering the basics of Jimi Hendrix, Stevie Ray Vaughan, Jimmy Page, Johnny Winter and other Masters. We will talk about what makes them different from each other, and through examples help you develop your own approach to this style of guitar playing which is all about originality, character and attitude. Together we will learn about improvising, mastering basic blues-based scales, licks and riffs to help you build your confidence and a solid ground for you to use as a stepping stone for own iconic licks!
Monday Minor: Developing Character with string bending and vibrato
What truly makes guitar players different from one another, apart from their sound, is the way they "bend" their strings and the way they use "vibrato". It can truly change the way you perceive the same note! From BB King to Stevie Ray Vaughan and everyone in between, they all have a very unique way of doing things! We will be covering this subject using a slide as well!
Tuesday Minor: Interacting with your band mates
Beginner to Advanced
This minor will focus on the role of the guitar in a Blues/Rock context.
- Balance between rhythm and lead guitar
- Learning when to play and when to hold back
- Interacting with the singer for melodic trade-offs
- Interacting with the drummer for a more rhythmic impact
The goal is to help you understand the importance of listening to what's happening musically and help be in sync with the rest of group.
The class will be divided in 3 different contexts
• Full band situation, where you might have a second guitar, keys, horns etc.
• Power Trio, Stevie Ray Vaughan, Jimi Hendrix, Cream, etc.
• Solo performer, We will use Robert Johnson as an example for accompanying himself and playing lead between his singing
Wednesday Minor: TONE
There are many things that make a great guitar player, one of them is TONE. There's so many options out there that it can get overwhelming to find the right voice for your style of playing. In this class, we will talk about the different style of guitars and amplifier, and why your favorite players have chosen those tools to get their sound. It's not just sounds, its inspiration, and it's also your voice as an instrumentalist. Different styles of playing call for different gear. From rounder, warmer tones to funky tight sounds all the way to screaming lead guitar sounds, there's different tools for different jobs!

---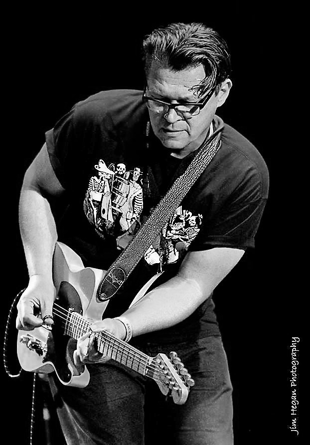 Paul Pigat - Guitar
Major: Beginners finger style Part 2
All Levels
Last year's course was so popular that I thought I'd do a Part 2. We will continue to look at the essential techniques necessary to get you on the road to being a finger style player. Thumb independence and simple finger patterns combined with some cool chord voicing can go a long way!!
Monday Minor: Honky Tonk!!
All Levels

In this class we will look at the guitar playing on the classic, Honky Tonk by Bill Doggett. Billy Buttler, though a noted jazz guitar player laid down one serious blues solo on this track and it's a perfect example of what " to do " when playing a with a band!!!!
Tuesday Minor: Substitutions in the Blues!!
All Levels

A lot can be done in the space of 12 bars!!! Let's take a simple blues and start adding chords till we get to a whole new place. We will look at chords used by both blues and jazz musicians to spice up this traditional form.
Wednesday Minor: Boot Camp!!!!
All Levels
There are no shortcuts to good technique. If you want to break through to the next level, you gotta do the time. That being said, it can still be fun. We will look at both right hand and left hand technique and make up some exercises that will help you get your hands standardized so they know what they are doing even when you don't!!! now drop and give me 20!!!

---
Terry Robb - Guitar
Major Class: Fingerstyle Acoustic Blues Guitar
Exploring the technique and approach of blues guitar from the Delta to Chicago, and beginning and advanced Ragtime guitar. The guitar of Charley Patton, Robert Johnson, John Hurt, Blind Blake, Rev. Gary Davis and others.
Monday Minor: Slide Guitar
Bottleneck and Lap style playing. Use in open and standard tunings

Tuesday Minor: Improvisation
How to improvise playing solo and with others. Technique, Scales and Phrasing.
Wednesday Minor: Open Tuning
Exploring various open tunings and their chord shapes..
---
---
Kenny "Blues Boss" Wayne - Blues Piano
Major: Blues Piano
Intermediate to Advanced

Piano blues is historical and has been a very important element in the creation of what we call the blues music. Starting from within the Church and venturing out to the people who weren't church goers, they were able to get that spiritual feeling while having a good time partying. The piano was a good tool to learn chords and rhythms and arrangements which was predominately used by many New Orleans musicians who some were classically trained. Various cities throughout the United States adapted and interpreted the New Orleans style and made their own style fit to their unique surroundings. The styles that came out of Texas was different than that of Kansas City and Saint Louis was different from that of Chicago. These cities/towns were the main influences for the blues piano styles. Blues is a mixture of cultures that was musically created by the slaves that were brought to America.
Monday Minor: Four different styles of Blues Piano
Beginners to Advanced
I'll show you how Chicago style, Saint Louis/Kansas City style, New Orleans style and Texas style blues piano (which is basically Boogie-Woogie/Barrelhouse etc.) and how they're different from eachother. I'll show you the piano styles and technique of various blues legends.
Tuesday Minor: Make Playing Fun
Make playing fun, and to have fun is doing so without thinking about what you're going to play to have fun. For some people that sounds difficult but actually, it's very easy and I'll show you how. First thing you'll practice is how to play simple and melodically. It is one of the most important things to do when playing with an ensemble.
Wednesday Minor: How and what to do when it's your time to solo
You'll learn how to sing your solos which mean that you are saying something other than running scales. Slow it down and feel it before you start speeding up. A lot of young musicians like to play as fast as they can and they think that they are impressing someone but if they play those same notes slow, they'll find out the truth. Boring!. A good way of learning how to solo is to be able to sing your part like that of a lead singer or saxophone which is one note at a time. That's a good starting point. I'll give you an insight on who to listen to and who I listened to for ideas on traditional blues piano styles.
---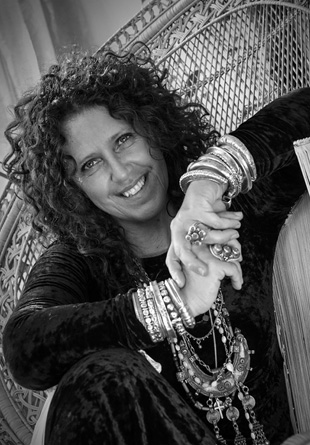 Angel Forrest and Denis Coulombe - Vocals
Major: 'Many styles... within the one song'

In this exciting and creative Major class...Denis and I will embark with you on a musical voyage.

One song...5 different styles.

You'll learn different ways to approach the same song... by just altering the groove, the melody...your pronunciation, tone, attitude and delivery.

In previous years we gave this same sort of class...and it was a huge success...with a lot of vocal self discovery, just a down home stompin' good time!
Monday Minor: To Ad lib... or not to Ad lib.
'there is no question'
The beauty of singing the blues in my opinion is the freedom and sense of liberation one feels from singing their soul.

In this minor class we're going to attack the Freedom Train!

The how, when and where's of ad libing.

Letting your freak flag fly can be very touchy.

You don't want to overdo it, or step on any musical toes ...but you want to touch the audience with the free spirit, live and let live approach to expressing yourself!

This class will set your soul free!!
Tuesday Minor: 'Harmonizing'...not for the faint of heart!
In this minor class Denis shines like no other.

He has many specialties...but if i had to pick one...(and not as his wife).. but a fellow musician, i would have to say that he is the King of harmony.

He'll teach us...( including me) all the tricks on how and where to harmonize like a pro.

There's magic in a good harmony that can bring beauty to the canvas of any song.
Wednesday Minor: Let's Get it On!
Whether your new to blues or a seasoned performer...when it comes to jamming with your friends or on a professional stage, there is a proper etiquette to follow.

In this class we'll learn the do's and don'ts ... how to pick the right key best for you to shine...how to be courteous...listen and to play off the players with whom you share the stage.

But most importantly...how to blow the roof off when you only have the chance to sing one song!!!
---
For more information:
Hornby Island Blues Society
3500 C Shingle Spit Rd
Hornby Island BC
Canada V0R 1Z0
Email: hornbybluessociety(at)gmail(dot)com